University:

Aalto University


Faculty:

Tuuli Mattelmäki, Nuria Solsona Cobana


Collaborators: 

Maiju Kuusiniemi, Ruta Serpytyte, Samyukta Santhakumari, Shuaijun Zhang


Partner Organisations: City of Espoo &

Eurocities

 
Designing for Services, Sept - Nov 2021 | 7 weeks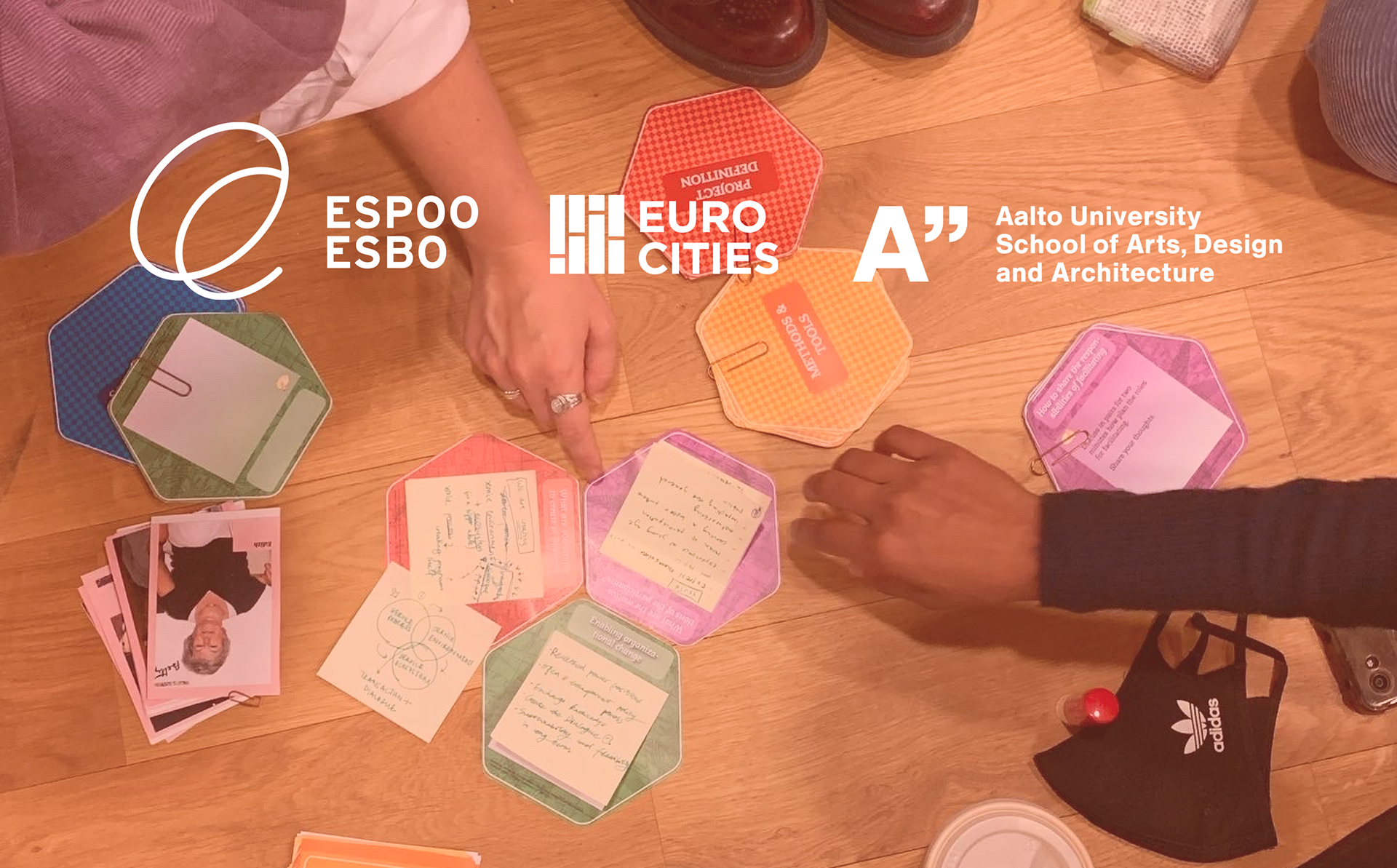 To design a mentorship program (youth participation model) for the

Eurocities network

, in which the youth would mentor city leaders about sustainability and climate change.
A service journey map outlining a concept for the reverse mentorship programme where the youth and city leaders from the city would be able to meet and discuss ideas within a guiding framework and a checklist for the city of Espoo. 
Netnography, Benchmarking, Surveys, Interviews, Affinity Mapping, Service Journey Map, Storyboard and Validation Workshops
Research, Organisation, and communication, Journey Mapping, Conceptualisation, Service Design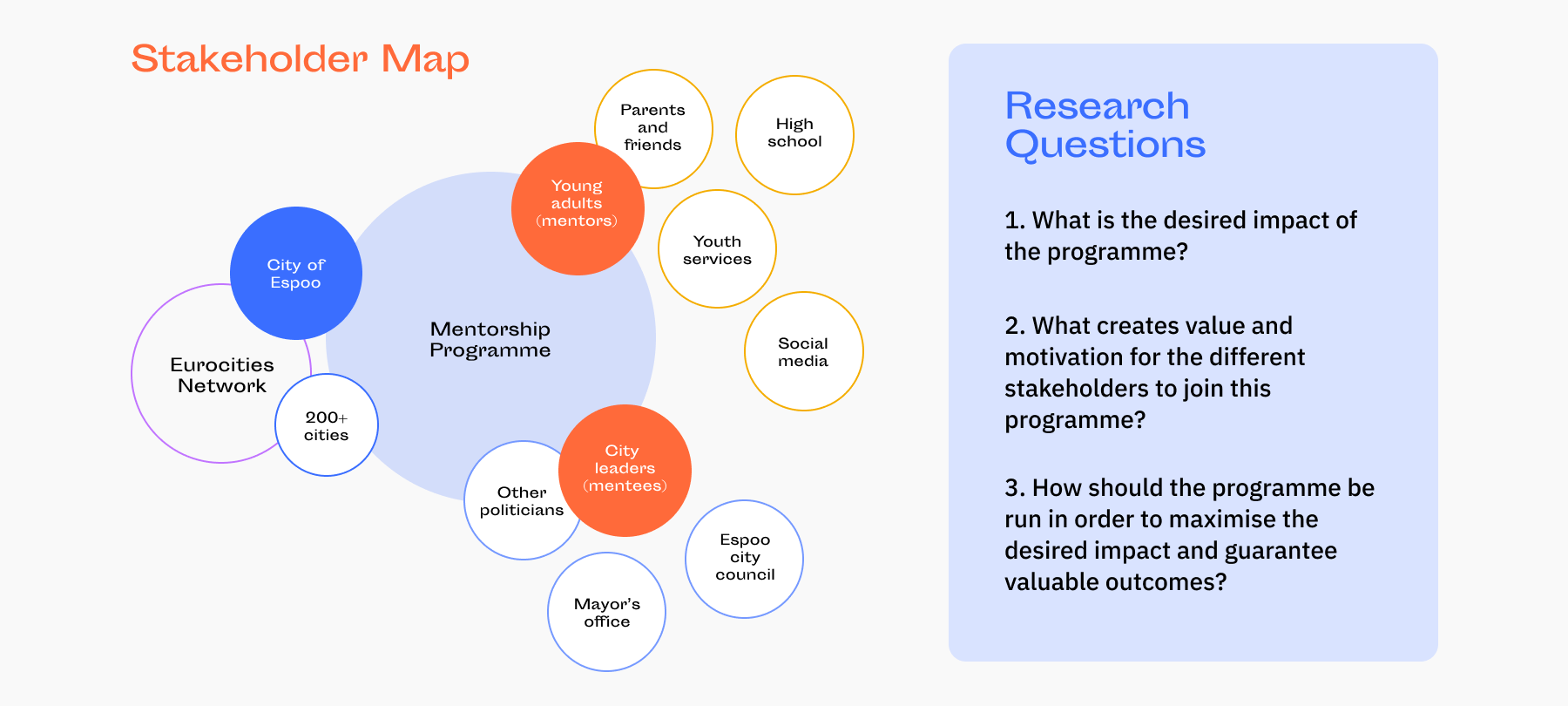 In order to insert ourselves into the shoes of the youth, we joined some Reddit threads, followed relevant Instagram profiles, Twitter handles, etc to observe the behaviours of the young people in online communities. We found out, for example, that there was a lot of activism amongst the youth and movements like Fridays For Future, that are shaping the youth from passive citizens into active climate activists. We realized that youth interest in politics was at a high degree, but there were not enough mediums for them to express themselves in. This was one of the key takeaways from our desktop study.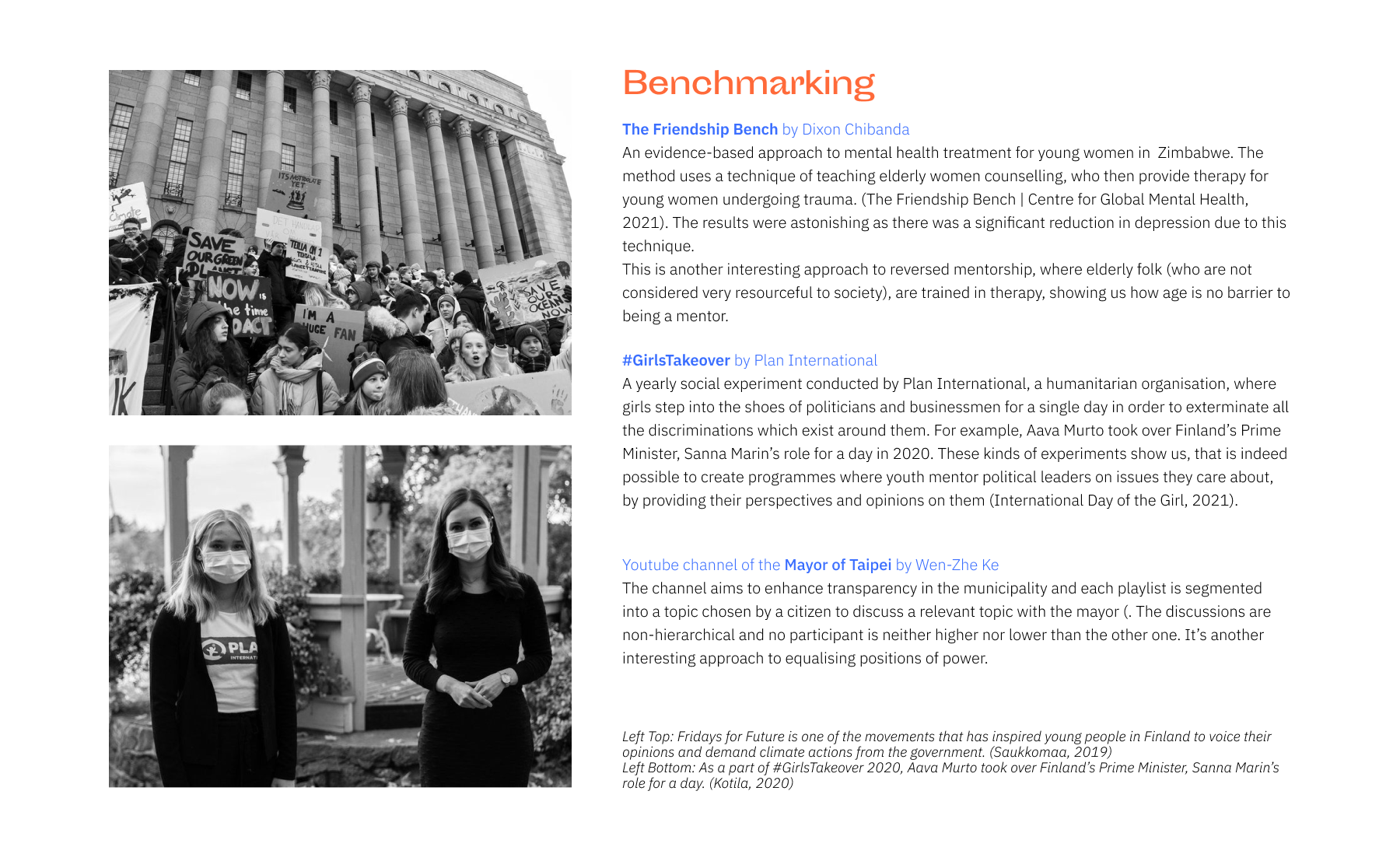 We conducted an online survey to understand the motivations of young adults and their willingness to participate in a mentorship programme. We also designed a survey for the members of Espoo city council. It included open-ended questions to grasp more qualitative data from the method. The goal was to understand what would motivate them to participate in the programme.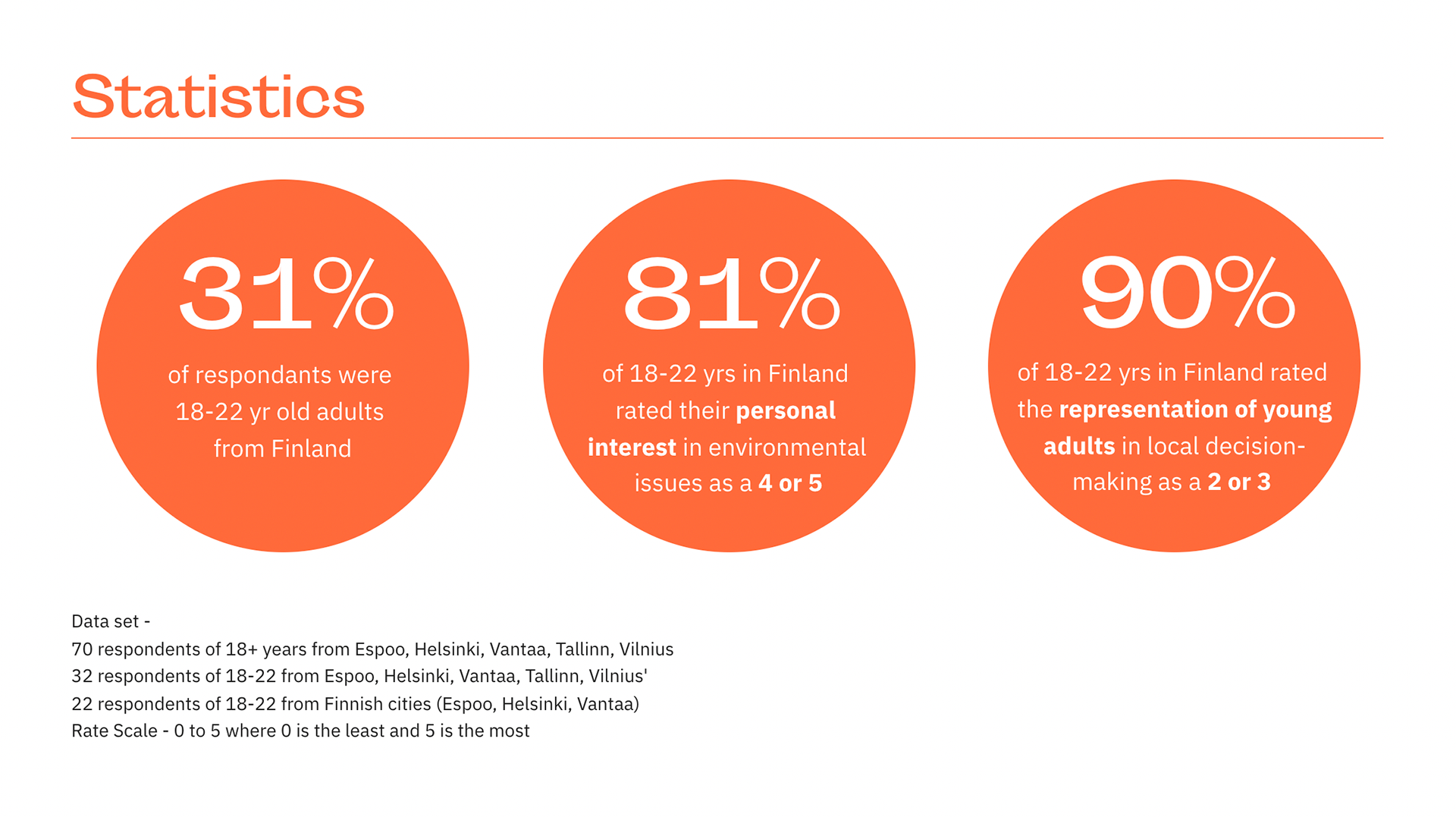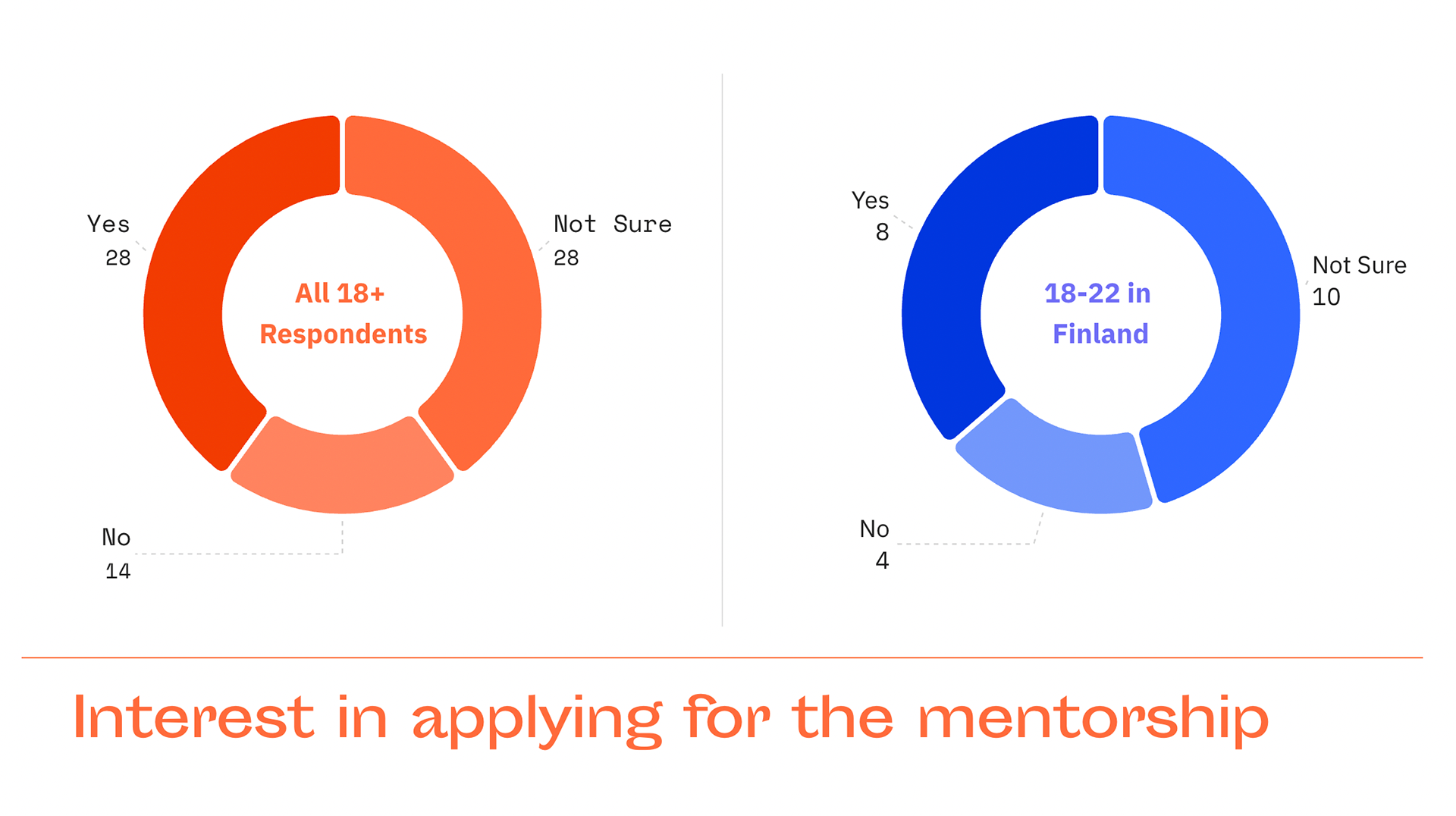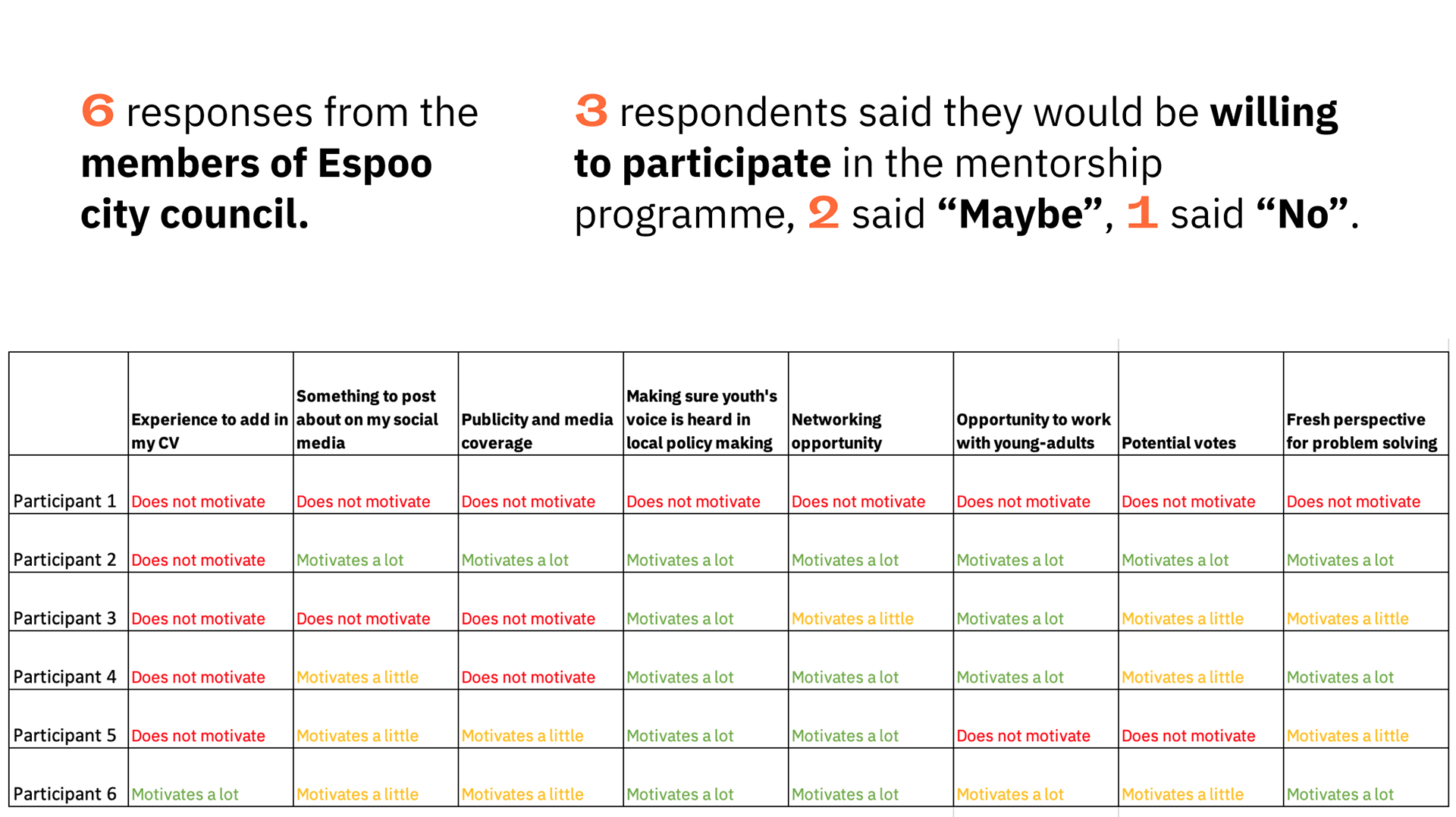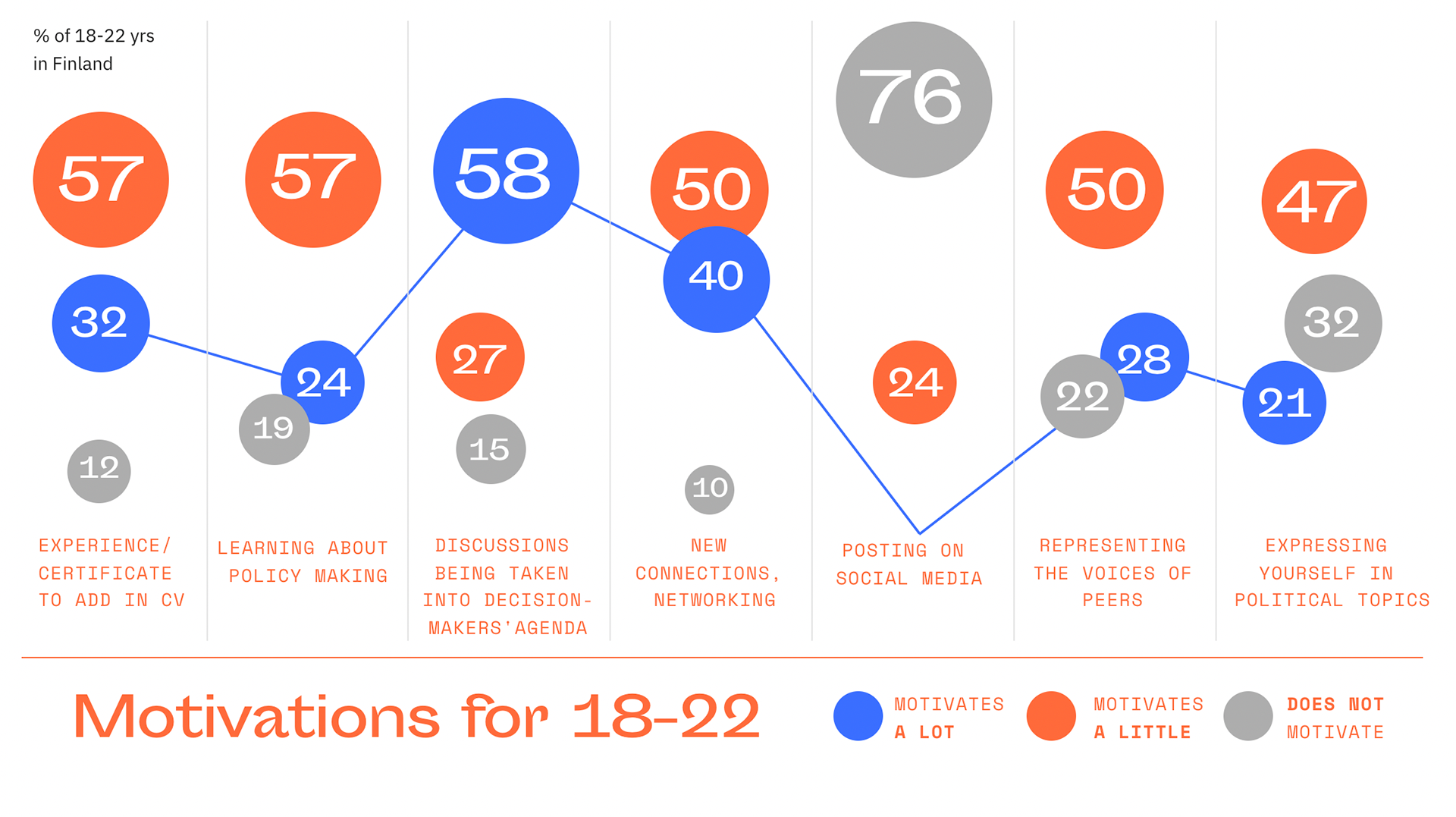 5x Mentor / youth
2x Mentee / city leader
1x Eurocities representative
While recruiting participants for the interviews, we tried to include diversity as this was an important requirement from the client's end. Therefore the chosen candidates were three immigrants and two local Finns. One was fairly active in the European Youth Parliament, one was a member of Espoo Youth Council, one was part of a sustainability group and invested in the green futures aspect. The other 2 candidates were immigrants living in Espoo and fairly interested in the local happenings in Espoo. All of their age, heritage, and interests played a pivotal role in our recruitment.

As for the city leaders, we interviewed one member of Espoo City Council, and one young politician from Helsinki, a member of the Green party.

The main goal of these interviews was to understand the motivations to join the mentorship programme, and to identify the main barriers that would keep participants from joining. Also, we interviewed one employee of the Eurocities network to get a better understanding from their point of view.

"
Just meeting the youth, would that be valuable enough?


No. I don't say that because I wouldn't care about young people's thoughts, it's because I think I already know what they would say.


-Policy-maker, Espoo
"
I'm sorry, I'm so pessimistic about young people (...) actually changing politicians' minds. We already have our values. 


-Policy-maker, Espoo
"
I feel like I might need some kind of training to participate in this. I don't know what to talk about.


-18-year-old, 2nd gen immigrant
"
Talking to other mentors would be important, and doing things in groups, so you would have similar questions for the politician.
-19-year-old, 2nd gen immigrant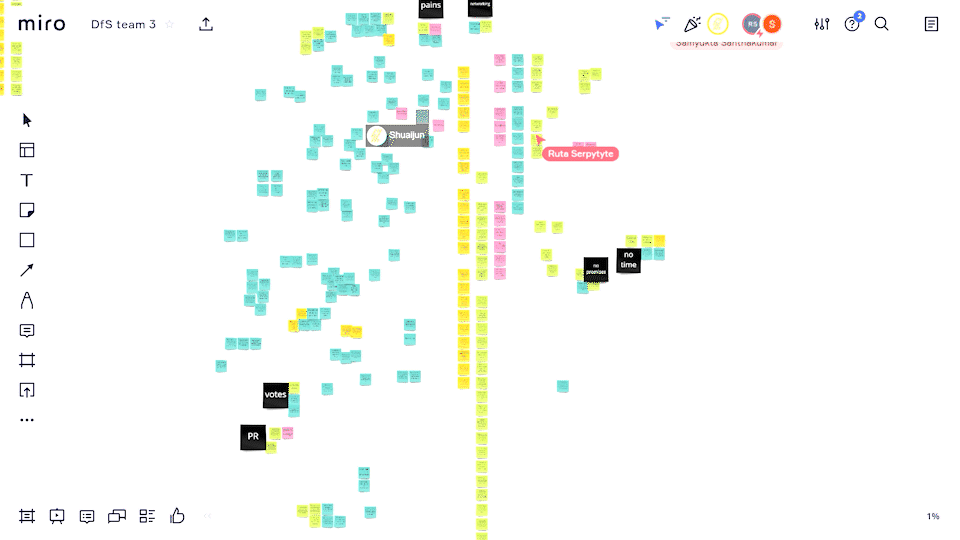 After gathering lots of data, we wanted to make sense out of it and understand the core insights based on it. Since the main focus of our initial research was the motivation aspects – what would make this experience valuable enough for both young adults and city leaders to join? Here, we were thinking about IKEA's business innovation, where the value is being created, rather than provided, and the customers become value co-creators (Normann and Ramírez, 1993). Even though the example comes from the business sector, this could be easily adapted in the public sector too, particularly in our case, where different stakeholders create value for each other. 
To illustrate this better, we created a Value map showing how young adults have resources that can become motivations for city leaders, and vice-versa and a Motivation matrix – a table which we created to show the different motivations for potential mentors, mentees, and brief owners in different stages of the programme: Admission, Participation, and Review. We have also used an Affinity Diagramming to map the findings from our research. We first put all of our observations down and then clustered them up into categories. This helped us list the pain points and the design drivers.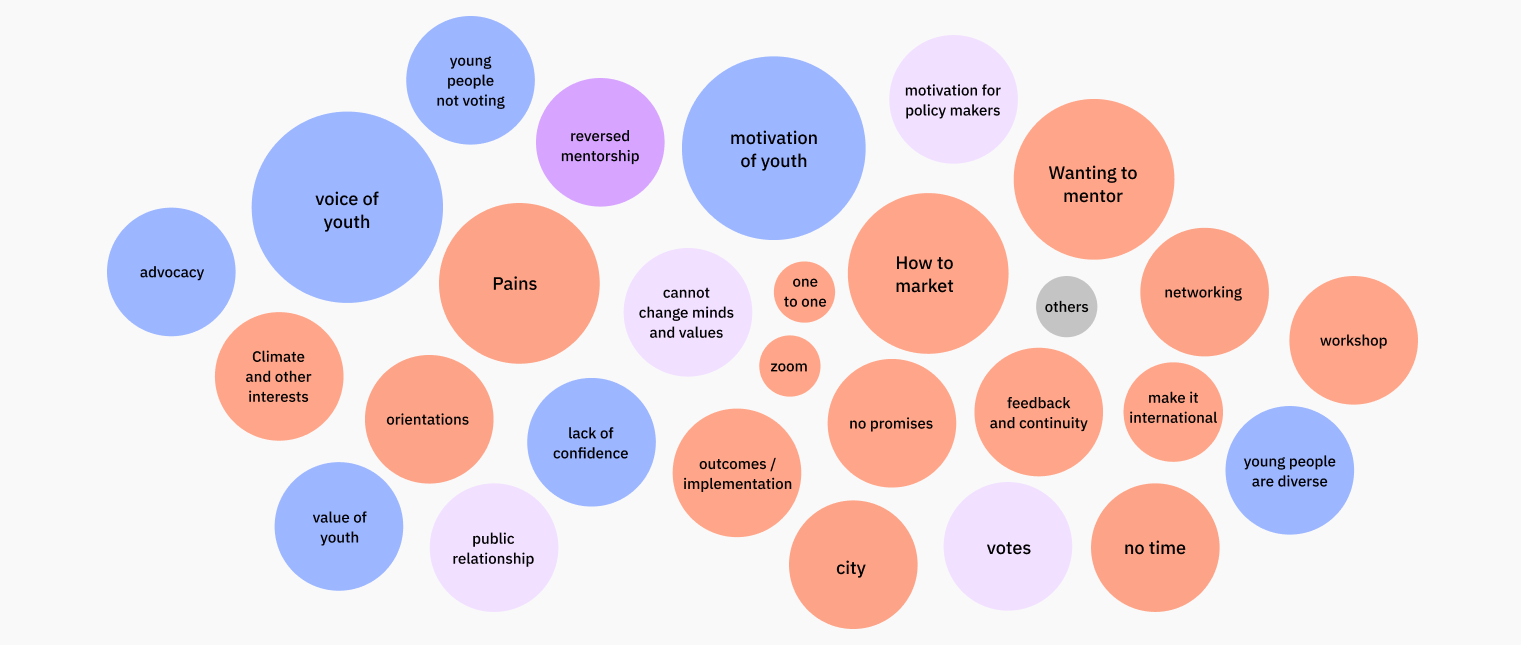 After mapping our main observations from the research and categorising them, we were able to identify some key pain points:
 • 

Non
a
ligning motivations

between the youth and the city leaders
 • 
Fear of polarisation mixed with lack of interest

amongst both stakeholders
 • 
Lack of time

from both the youth and the city leaders
 • 

Confusion & apprehension

regarding the programme
 • 

Lack of confidence from the youth

's side and

power imbalance

that might create a one-sided conversation
 • 

Cannot be pushed through all mediums as there is a

risk of green-washing and lack of trust
The insights gathered from our research led us to slightly reframe our brief. Instead of creating a one-on-one dialogue between the youth and the city leaders, we felt that more consideration should be put into creating an empathetic, non-hierarchical programme, that highlights two-way dialogue and co-creativeness.

With the recognized pain points in mind, we formulated three design drivers to guide our ideation process and to ensure the most important factors will be considered carefully in our final solution.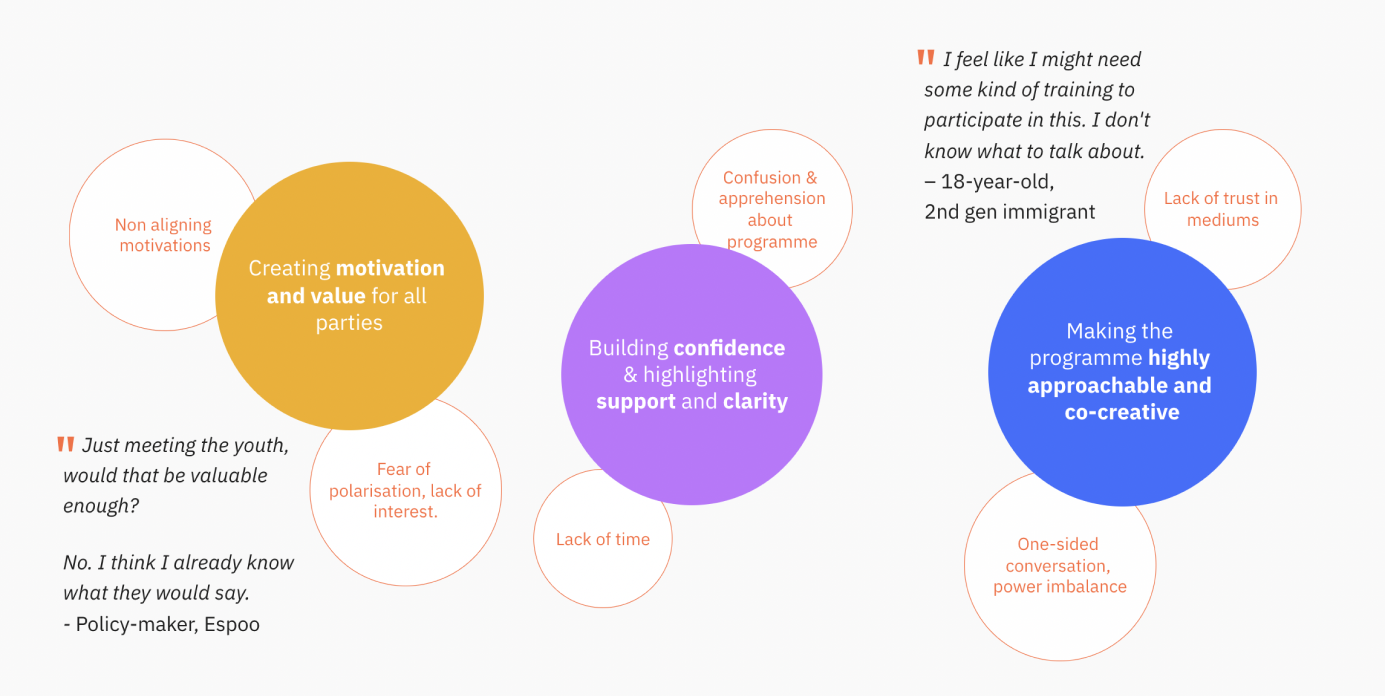 The three design drivers guided the ideation of the final concept. By brainstorming individually and then discussing everyone's ideas, we weighed the different alternatives and systematically decided the structure and the content for the reverse mentorship programme.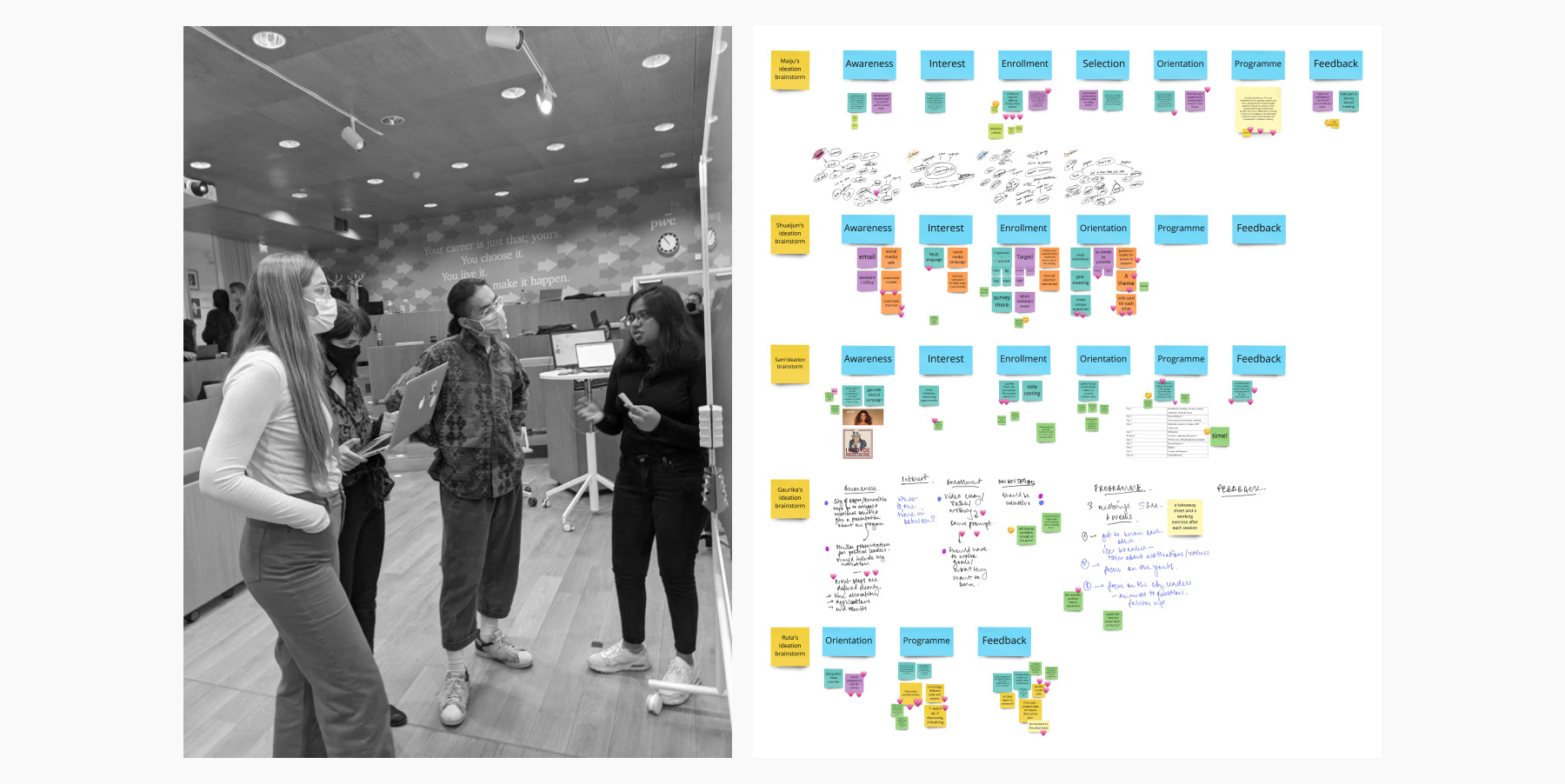 The service journey map illustrates the whole process of the programme, including the 8 main steps from "planning" to "continuity". It covers the roles of both mentors and mentees, but also those of the cities (programme organiser / coordinator) and Eurocities. It shows how much effort and time each stakeholder would need to invest and how they might feel at each stage.
An illustrated journey of all the steps of the programme explaining how it would work in detail, right from planning to feedback.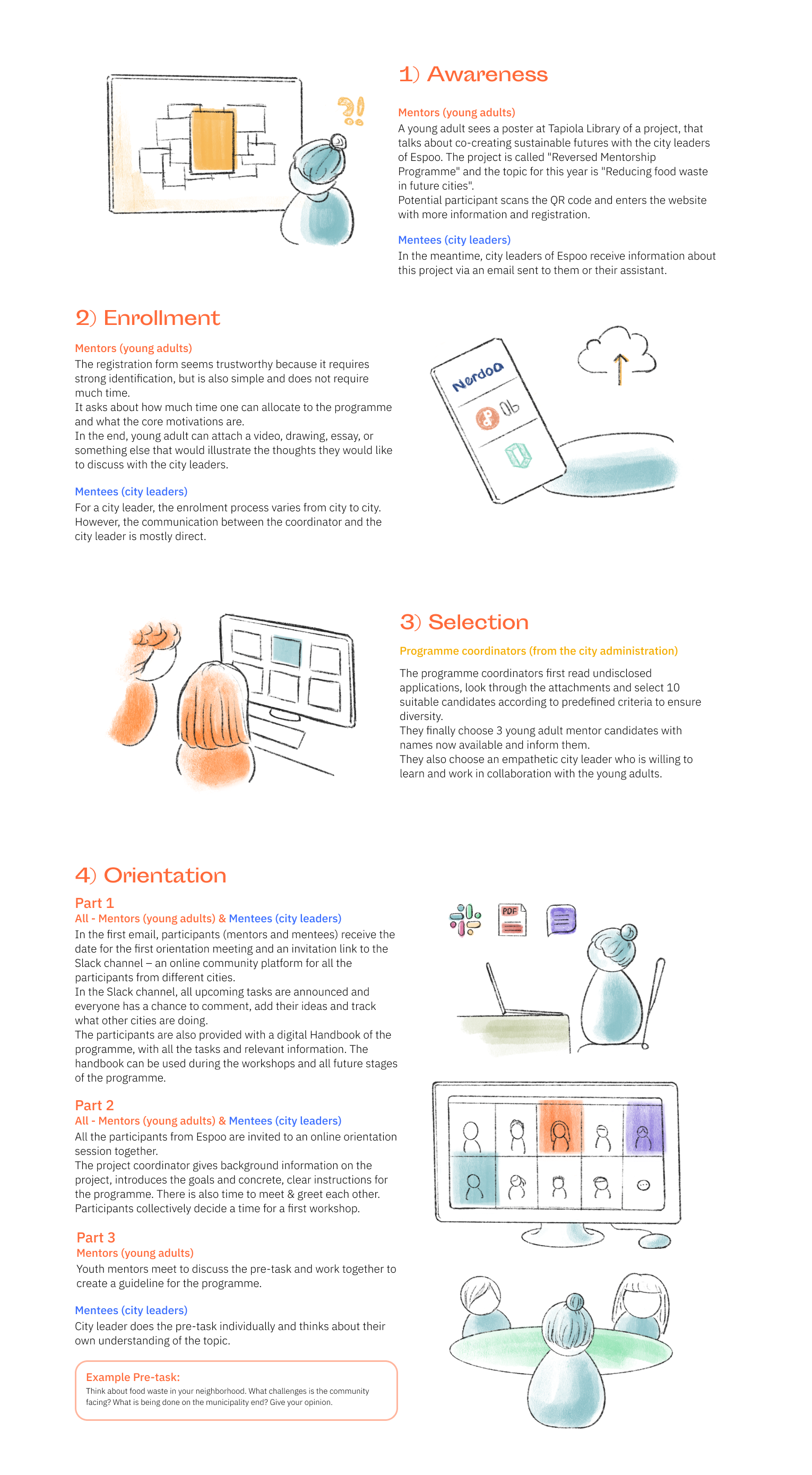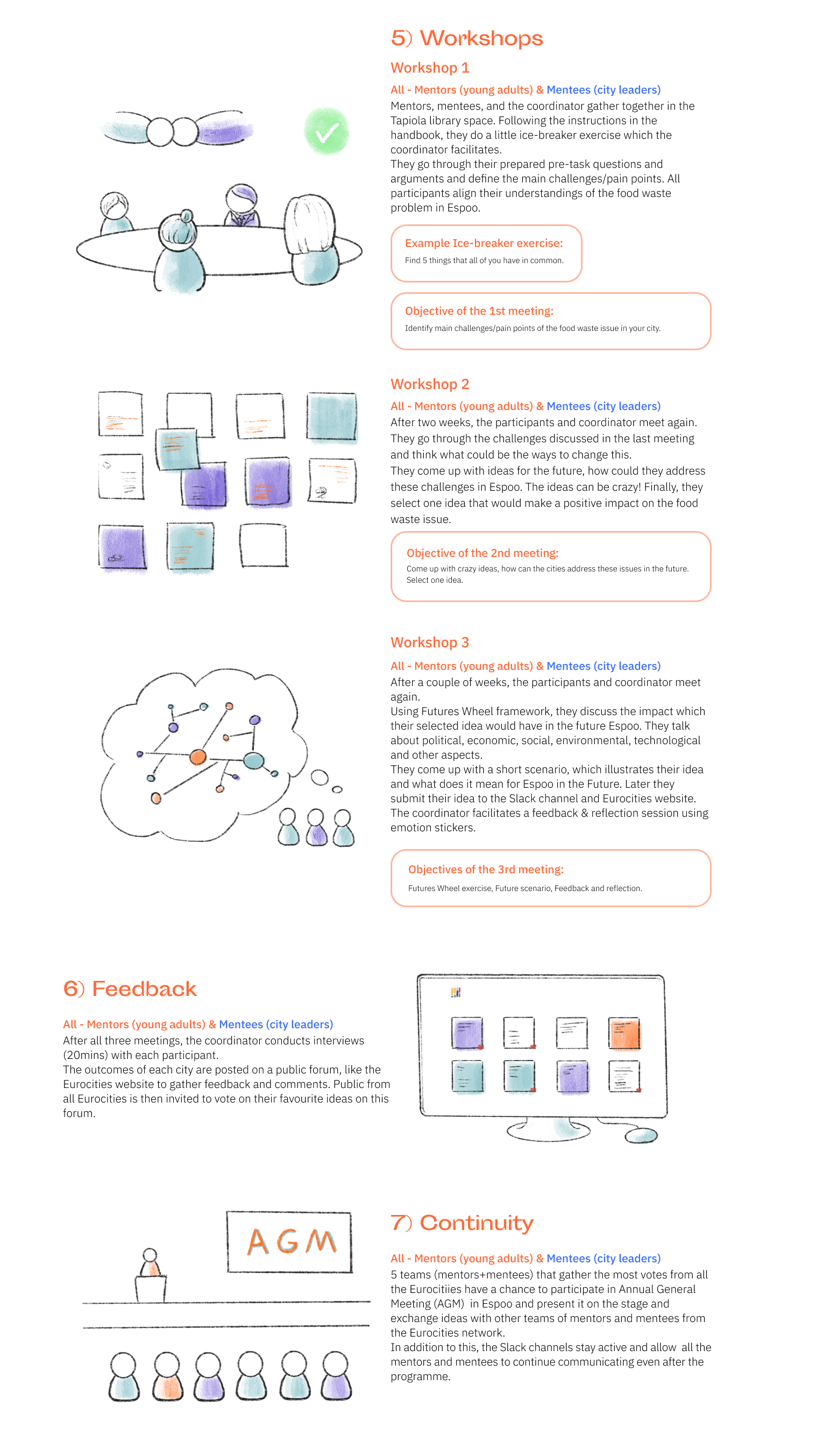 In order to receive feedback on the Reversed Mentorship Programme we planned and ran two 2-hour validation workshops; one with City of Espoo and one with City of Groningen of the Netherlands. Both workshops were taken part of by two young people and one city leader. We were especially interested in validating the motivations of the possible mentorship participants, the service entity with all its different stages, and the clarity of the programme. We also wanted to find out about any possible drawbacks they might think of.
We had three different stages in our workshop. We first told them about the planned service in a storyboard form and asked for their initial thoughts. We then had semi-structured interviews with the youth and the city leader in different breakout rooms, accompanied by our group members. In the interviews, we went over the service journey stage by stage, sparking conversation and thoughts with the pre-prepared prompts and visuals in our Miro board. In the end, we had an open discussion about their motivations to join the programme and about the value, they would expect to get from it.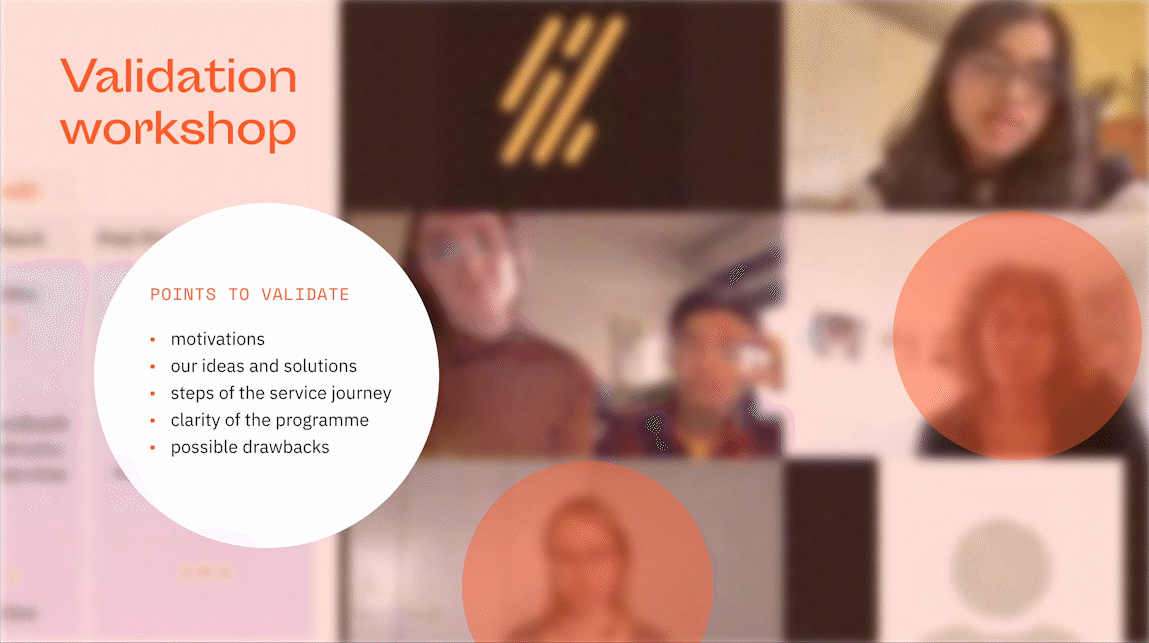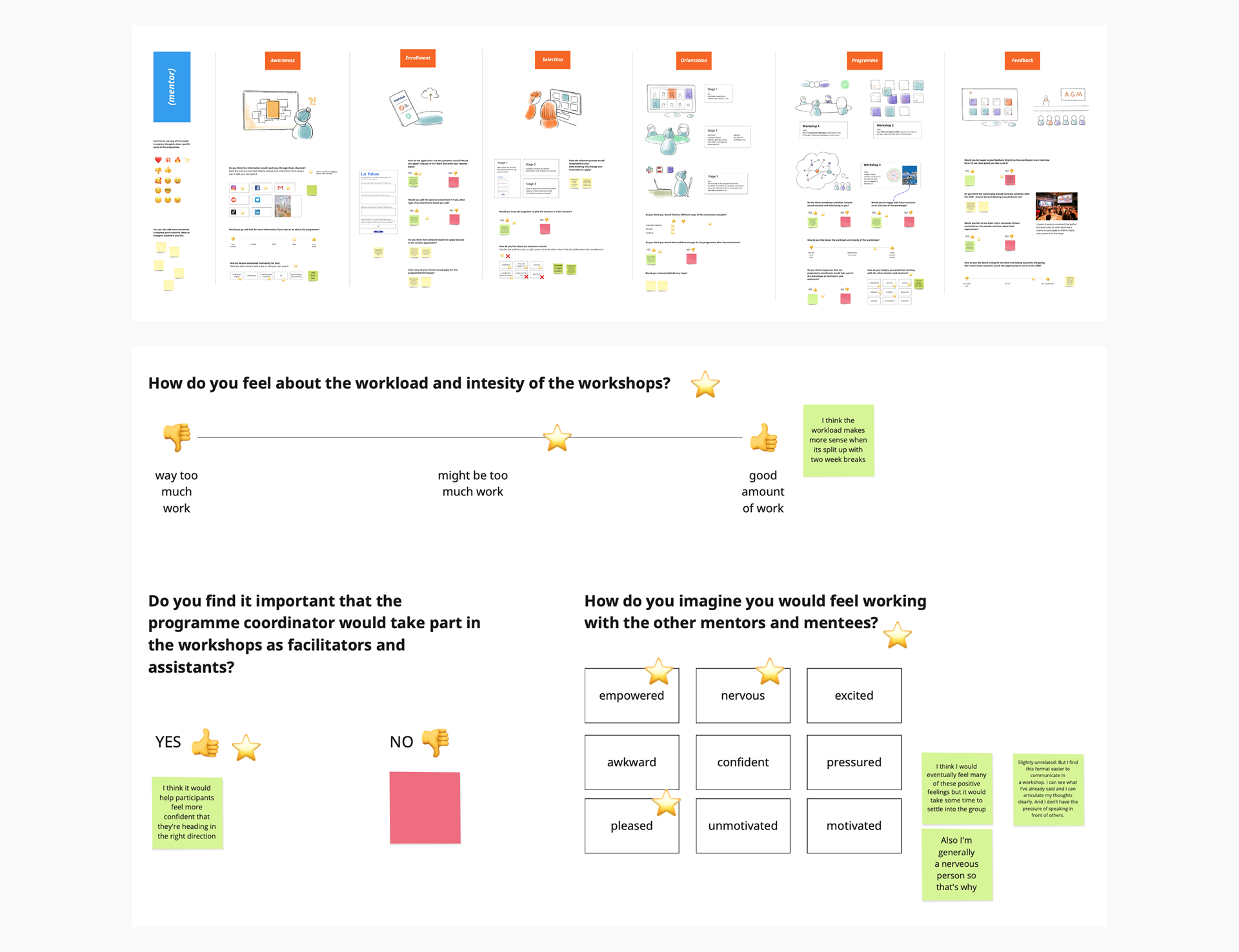 "
It could be a very good motivation if the council promised to execute a good idea, whether it be 1 or a few. Instead of 'thank you for everything and all the work you did, but we are not sure if we are going to implement it or not'.
-City Leader, Groningen
"
I think any potential pre-readings might make me feel more confident and create an equal base for everyone to work off of.
-21-year-old university student, Espoo
"
The meeting between mentors is especially valuable to gain confidence. If the mentors feel like a team, they're more likely to speak freely from their point of view to the city leaders.
-21-year-old university student, Espoo
"
I think the concept is very clear. I didn't imagine that it would shape up to be this amazing when we initially discussed it
-City Leader, Espoo
The programme shouldn't be made into a contest. All ideas are valuable and should be taken seriously.
As a young person, being seen as equal is the most important thing.
-21-year-old university student, Espoo
The Reversed Mentorship Programme was generally

well-received

. The service entity and the different stages were described as

clear and logical

. The planned programme was praised for its emphasis on support and confidence building, ensuring that the service experience would be smooth and pleasant for both mentors and mentees.

Some solutions were also ideated further by the workshop participants, such as enabling the mentors to work in Eurocities forums after the programme. It was also encouraged to ensure enough flexibility in the programme not to limit the number of cities being able to join the programme.
Some of the concerns raised by our workshop participants included the value of the programme for young people as it wouldn't guarantee any tangible outcomes, and ensure the diversity of the participants without simultaneously trying to over-control it with strict selection criteria. The only service stages that were seen as problematic by some were the voting of the five best future scenarios and the amount of time and effort required for the workshops and its' pre-tasks.